Founded by Dr. Garron J. Solomon, M.D., Tripoint Diagnostics, PLLC is a new state-of-the-art, physician-operated anatomic pathology laboratory specializing in dermatopathology, located just outside the Research Triangle Park (RTP) region of North Carolina.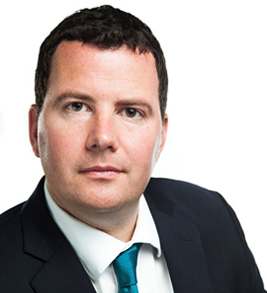 Founder & Medical Director
Dr. Garron J. Solomon, M.D.
Founder & Medical Director
Dr. Garron J. Solomon is an alumnus of Cornell University and earned his medical degree at the State University of New York at Buffalo School of Medicine and Biomedical Sciences, where he graduated magna cum laude and was elected into the prestigious Alpha Omega Alpha Honor Medical Society. Dr. Solomon completed his residency in anatomic and clinical pathology at New York-Presbyterian Hospital/ Weill Cornell Medical Center and his fellowship at the Ackerman Academy of Dermatopathology, where he served as Chief Fellow.
Dr. Solomon's mentors during his residency and fellowship training included world-renowned dermatopathologists Drs. N. Scott McNutt, Cynthia Magro, Geoffrey Gottlieb, and the late A. Bernard Ackerman. Following his residency and fellowship training, Dr. Solomon joined Strata Pathology Services (now StrataDx) in the Greater Boston area, where he became Associate Director of Dermatopathology and worked alongside Dr. Terence J. Harrist. During this time, Dr. Solomon regularly taught dermatopathology to the Harvard dermatology residents.
Prior to founding Tripoint Diagnostics, Dr. Solomon was a staff dermatopathologist at CBLPath, Inc. in Westchester, NY for over three years. Dr. Solomon currently holds active medical licenses in 22 states. In addition to dermatopathology, Dr. Solomon also has special expertise in breast pathology, having been trained at Weill Cornell by world-famous breast pathologists Paul Peter Rosen, M.D., and Syed A. Hoda, M.D. Dr. Solomon's wife is an Assistant Professor of Dermatology at Duke University Medical Center. They live in Cary, NC, with their son.
Mrs. Karen Furca has more than 19 years of experience in all areas of anatomic pathology laboratory operations which she gained during her tenure at StrataDx (formerly Strata Pathology Services). She started her career there in 1995 as the Director of Human Resources and during the subsequent 10 years, as an extension of her duties in human resources, she acquired a wealth of experience and operational knowledge in all areas of the company.
In 2006, Karen became the Director of Operations and in 2008 was promoted to the Chief Operating Officer. She oversaw the integration of all aspects of daily operations including oversight of laboratory quality and turn around, daily office operations and delivery of reports, customer satisfaction, sales and marketing strategic initiatives, and effective physician utilization. During that time she pioneered the analytic operational reports to assist the organization in understanding volume, performance and capacity. She spent five years as a human resources executive at Envirotest Systems Corporation, originally working out of its Connecticut office, then moving to their start-up program in Colorado. She was responsible for recruiting more than 800 employees and establishing all regional policies and procedures. Karen, her husband and their two golden doodles (Lola & Papi) recently relocated from Arizona and are now residing in Wake Forest.
Mr. Gino Mercado was one of the founding members and owners of StrataDx (formerly Strata Pathology Services) where he served as Histology Laboratory Manager. Gino is certified by the American Society of Clinical Pathologists and the National Society for Histotechnology as a Histologic Technician. He has more than 25 years of experience in all areas of the histology lab including gross examination of specimens, processing, embedding, cutting, special stains, frozen sections, immunoperoxidase and immunohistochemistry.
In addition to working at StrataDx, Gino has worked at several prestigious Boston institutions such as Massachusetts General Hospital and Beth Israel Deaconess Medical Center in their histology laboratories. He also spent several years working in the research departments at Massachusetts Institute of Technology as well as OsteoArthritis Sciences. Gino recently relocated from New Hampshire and resides in Morrisville.